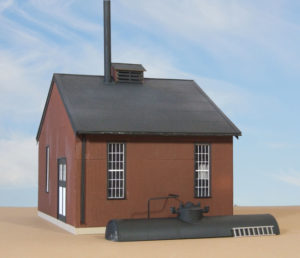 This kit was developed from drawings made in 1924 of the power house at Mount Hebron, California, and a photo of the power house at Wendel, California. This was a common standard Southern Pacific power station, which supplied steam and electricity to other buildings, typically maintenance structures such as shops and repair facilities.
The kit is laser cut, with corrugated siding that is applied over the basic form. Kit includes what you see here, including the outside oil storage tank that was a half buried tank car.
Updated kit instructions can be downloaded here.
S Scale kit is $99
O Scale kit is $119
You can purchase a kit by clicking here or on the Store button in the top menu bar.